Newsletter Sign Up

If you would like to receive the ISPA newsletter, please sign up.
Purpose
The purposes of ISPA are to:
Organize and conduct international conferences related to precision agriculture (PA), such as International Conference on Precision Agriculture, European Conference on Precision Agriculture, and other related conferences.
Develop and maintain a web-portal to communicate the latest developments in PA with the world, and maintain a member listserv to communicate among society members.
Publish a monthly ISPA e-newsletter for members and other subscribers.
Provide members an opportunity for publication of original scientific research in the society sponsored peer-reviewed journal, Precision Agriculture.
Abstract Deadline Extension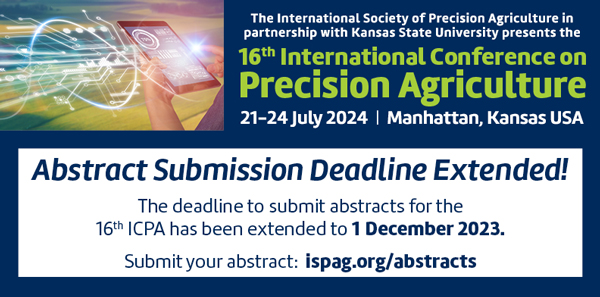 Thank you to everyone who submitted abstracts to the 16th ICPA by the 31 October deadline. We had a terrific surge of submissions the final week. We also had a number of requests to submit an abstract after the deadline. We have allowed for these later submissions and we want to be fair to everyone, so we are extending the deadline to
Friday, 1 December 2023
.
Due to the need to review all abstracts in a timely manner we will need to maintain this as the final deadline for submissions.
Information about the full paper submissions including a template can be found at
Author Instructions
.
If you have any questions about submitting or the conference, please contact
abstracts@ispag.org
or phone +1217-762-7955.
ISPA Country Representative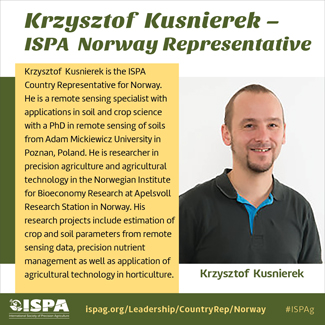 Country Representatives serve to help promote ISPA by championing the ISPA mission and purpose globally, in particular, in the country they represent. ISPA is growing internationally so Country Representatives remain an important position to help ISPA best serve people, groups, governments and others, globally connecting them to science and experts.
Please join us in thanking ISPA Country Representative from Norway, Krzysztof Kusnierek.
If you are interested in becoming a Country Representative, please email
info@ispag.org
with your bio highlighting your experience in precision agriculture and your CV. ISPA requires that all Country Representatives are current members of the society. To become a member, please complete the
membership form
.
Precision Agriculture available to members
The Springer journal, Precision Agriculture, is available to ISPA members through this website. When you login to the website you will see a Members tab at the far right of the navigation tabs. Click on the Members tab to see the menu and select Precision Agriculture journal to be redirected to the Springer site.