Newsletter Sign Up
If you would like to receive the ISPA newsletter, please sign up.
Purpose
The purposes of ISPA are to:
Organize and conduct international conferences related to precision agriculture (PA), such as International Conference on Precision Agriculture, European Conference on Precision Agriculture, and other related conferences.
Develop and maintain a web-portal to communicate the latest developments in PA with the world, and maintain a member listserv to communicate among society members.
Publish a monthly ISPA e-newsletter for members and other subscribers.
Provide members an opportunity for publication of original scientific research in the society sponsored peer-reviewed journal, Precision Agriculture.
Competition: Design a New International Society for Precision Agriculture Logo

The officers of the International Society of Precision Agriculture (ISPA) have decided that it is time for an updated logo that is modern and represents ISPA as a society. Therefore, we are launching a competition among society members to design a new logo.
The current ISPA logo is illustrated above and has served as the logo since the inception of the society.
New logos should be simple, eye-catching, modern and one should be able to clearly see all elements of the new logo for an image size of 5 cm by 5 cm. Logos cannot include any images or similar elements for which you do not own the copyright.
Entries for the new logo competition should be sent to
info@ispag.org
by 30 January 2023. The ISPA board will then review and vote on the submitted designs and announce a winner in the March 2023 newsletter.
Prize – one free registration for ICPA 2024. If submissions are received from a group, the prize will be split equally between group members.
ISPA Country Representative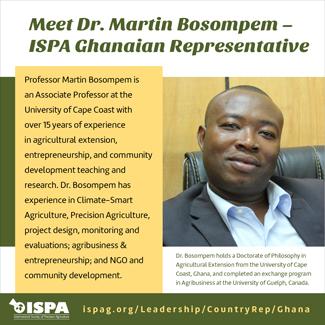 Country Representatives serve to help promote ISPA by championing the ISPA mission and purpose globally, in particular, in the country they represent. ISPA is growing internationally so Country Representatives remain an important position to help ISPA best serve people, groups, governments and others, globally connecting them to science and experts.
Please join us in thanking ISPA Country Representative from Ghana, Dr. Martin Bosompem.
If you are interested in becoming a Country Representative, please email
info@ispag.org
with your bio highlighting your experience in precision agriculture and your CV. ISPA requires that all Country Representatives are current members of the society. To become a member, please complete the
membership form
.
Precision Agriculture available to members
The Springer journal, Precision Agriculture, is now available to ISPA members through this website. When you login to the website you will see a Members tab at the far right of the navigation tabs. Click on the Members tab to see the menu and select Precision Agriculture journal to be redirected to the Springer site. Once at the site, click on the blue "Browse Volumes & Issues" button to access journal articles. Journal Impact Factor for 2019 is 4.454.