ICPA Survey
We had a good number of surveys completed during the closing session. Thank you.
Your feedback helps us keep our conference strong and organized to your interests. Please take a moment to fill out the survey and add specific comments for improvement.
Oral and Poster Programs Finalized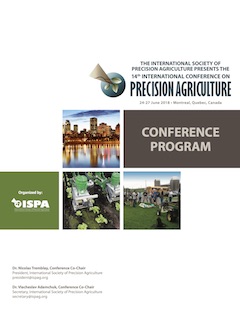 The final
Oral
and
Poster
programs are posted on the 14th ICPA website. We have over 250 oral presentations including over 200 scientific talks, 30 industry talks, and 20 plenary session talks including
keynote presentations from Chris Paterson and Yoshua Benjio
, plus a special appearance of The Honourable Lawrence MacAulay, Minister of Agriculture and Agri-Food Canada during the closing session.
Details for Oral Presentations
PLEASE NOTE: Due to the number of oral presentation submitted to the procedings, we have set the oral presentations to 15 minutes.
For oral presentations, here are a few guidelines for your presentations.
Presentation time is 15 minutes, this includes time for questions. Session Chairs will keep presentations on time so that attendees can plan their program in 15-minute increments.
Please upload slide deck at the conference registration desk when you claim your name badge. To avoid delays and technical issues, you can upload your slide deck via the abstract management tool anytime prior to the conference. (please note: this does NOT remove the need to upload a proceedings paper.)
AV equipment provided includes:
Windows 10 computer running Microsoft PowerPoint.
Projector.
Laser pointer and wireless slide controller.
Wireless lapel mic.
No template is provided for slides. You may use your own slide design. Projectors will be set to display both "square" and "widescreen" slide decks.
If you have additional needs, please contact info@ispag.org.
Please note that all cell phones/pagers/etc. should be off or silenced during sessions. No photos or videos should be taken of the presentations. Cameras, and especially tablets, are very distracting for other attendees, and no duplication of the slides is permitted without permission from the speaker.
Details for Poster Presentations
Please note: poster format must be no larger than 44.5 inches high by 44.5 inches wide (1.15 meters by 1.15 meters). Please be sure your posters are designed to fit in this format. Posters may be attached to the boards using pushpins or velcro. Supplies will be available at the conference registration desk.
The Poster Session will be Monday & Tuesday evening from 5:00 pm to 6:30 pm poster presenters should be present during this time. Posters may be setup beginning at 12:00 pm on Monday. Posters may remain in place through Wednesday morning. Posters should be removed by 12pm Wednesday.
Posters that are left on display past their time will be removed by conference staff.
If you have questions please contact info@ispag.org.
Author Instructions
Full papers (or 2-page summary for posters) must be uploaded by

15 MAY 2018

to be included in the conference and proceedings.
One or more authors of a paper must be registered for the conference by 01 JUNE 2018 for it to be included in the conference and proceedings.
Papers not meeting these requirements will not be included in the conference or proceedings.
INSTRUCTIONS FOR AUTHORS PREPARING PAPERS FOR ICPA
NOTE: The online proceedings of the 14th ICPA will provide an enduring, accessible, citable record of your research. All oral presenters are REQUIRED to prepare a full-length paper (4-15 pages long) for online non-referreed conference proceedings. Poster presenters are STRONGLY ENCOURAGED to also prepare a full-length paper.
A NEW PAPER FORMAT IS BEING USED FOR THE 14TH ICPA TO BETTER FACILITATE ONLINE CONFERENCE PROCEEDINGS. CAREFULLY FOLLOW INSTRUCTIONS BELOW AND IN THE PAPER TEMPLATE FILES PROVIDED.
PROCESS FOR SUBMISSION
Name the file with your abstract number and corresponding author name. For example "Abstract 101 John Smith.doc".
Microsoft Word is the only accepted file format.
Please submit your paper online at www.ispag.org/abstracts by

15 MAY 2018.

Login at the site and click the upload paper button to the left of the abstract title.
Paper must be in a digital "CAMERA READY" format, i.e., fully laid out, with all graphics and figures inline. Tables, graphs, and images should be a part of the document, rather than originating from another software source and must be embedded in the text. For example, do not embed an Excel table and send it with the linked database used to generate the table.
Absolutely NO faxed papers.
DEADLINE: 15 MAY 2018.
Important Dates
Some important deadlines for the 14th ICPA​
01 JUL 2017 - First Call for Abstracts
01 SEP 2017 - Online Registration opens
30 NOV 2017 - Deadline for Abstract Submissions
01 FEB 2018 - Call for ISPA Award Nominations (Students and Researchers)
09 FEB 2018 - Abstracts reviewed and acceptance letters sent
15 MAY 2018 - Extended Deadline for full paper submissions
01 JUN 2018 -

Early registration discount ends. Register by this date for lower price.
Extended Deadline for Award Nominations
Deadline for authors to register

08 JUN 2018 - Deadline for ISPA Board Nominations
Program Topics
Precision Agriculture and Global Food Security

Proximal and Remote Sensing of Soil and Crop (including Phenotyping)

Applications of Unmanned Aerial Systems

Wireless Sensor Networks

Robotics, Guidance and Automation

Precision Dairy and Livestock Management

Farm Animals Health and Welfare Monitoring

Geospatial Data

Big Data, Data Mining and Deep Learning

Decision Support Systems

Smart Weather for Precision Agriculture

Site-Specific Nutrient, Lime and Seed Management

In-Season Nitrogen Management

Precision Crop Protection

Drainage Optimization and Variable Rate Irrigation

Land Improvement and Conservation Practices

Site-Specific Pasture Management

Precision Horticulture

Profitability and Success Stories in Precision Agriculture

Education and Outreach in Precision Agriculture

Genomics and Precision Agriculture

Small Holders and Precision Agriculture

On Farm Experimentation with Site-Specific Technologies