Next Virtual ICPA Webinar - November 5
Access to the Virtual ICPA Webinar Series will be open to all ISPA members in good standing.
August 13 through November 5, our weekly webinar series will feature a number of different presentations. The pending schedule can be found below! All webinars will take place from 13:30-15:00 Central Daylight Time (UTC -5).
ISPA Members can access the recorded webinars.
Upcoming Schedule for the Virtual ICPA Fall Webinar Series
November 5, 2020 - Economics Community
Precision agriculture will only achieve widespread adoption if farmers and agribusiness can use it profitably. This webinar includes presentations on the regulation of agricultural robotics, adoption of smart phone apps in German agriculture, and the impact of seed technology on farm equipment manufacturers.
Climate Change Adaption and Mitigation for Food Security in Sub-Sharan Africa: Making a Case for Precision Agriculture Technologies Development - Martin Bosompem
US Ag Dealers Continue Commercialization of Precision Agriculture - Bruce Erickson
Policy and Regulatory Issues Related to Crop Robotics - J. Lowenberg-DeBoer
Economics Community Business Meeting
Be on the look out for additional details being released soon!
Virtual ICPA 2020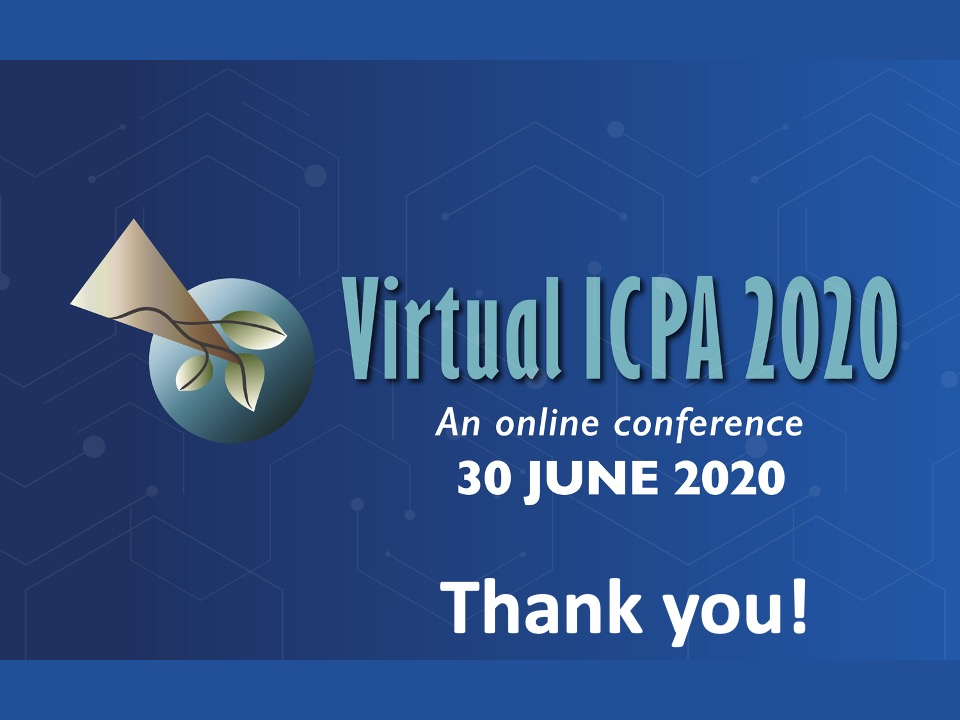 Thank you for all those who attended the Virtual ICPA 2020 webinar. This was ISPA's first-ever online webinar, and we hope the success of the presentations will encourage even more members to join us in any future online collaboration events.
We would like to again thank our keynote speaker, Dr. David Lamb, for his presentation and participation at such a late hour. The presentation provided ample engagement from our participants during the Q&A session. Our congratulations go out to the winners of the Pierre C. Robert Scientist Awards, Dr. Joe Luck receiving the 2020 Young Scientist Award, and to Dr. James Schepers, winner of the 2020 Senior Scientist Award. This was indeed a difficult year to select from our superbly qualified field of nominees.
We would also like to welcome in our newly elected Leadership Team: Dr. Ruth Kerry - Treasurer; Dr. Athyna Cambouris - Secretary; Dr. John Fulton - President-Elect. We are pleased to have these new leaders join our officers and know they will help make the ISPA society even greater.
As our current Past-President, Dr. Nicolas Tremblay, leaves his position, we presented him with the Honorary Life Fellow of the Society award, a well-deserved honor. Our current President, Dr. Ian Yule, bid a fond farewell to his position and is taking up his role as Past-President. Finally, we welcome in our new ISPA President, Dr. Jess Lowenberg-DeBoer. We look forward to your tenure in leadership.
Look to our website and newsletters for announcements of future online collaboration with ISPA.
About ICPA
Welcome to the International Conference on Precision Agriculture.
The 15th International Conference on Precision Agriculture will highlight significant research and its applications in precision agriculture and showcase emerging technologies and information management for agriculture. It will offer oral and poster presentations and exhibits, as well as a discussions and exchange of information in various aspects of precison agriculture. Sessions will offer information on key topics for scientists, crop consultants, advisors, extension personnel, agronomists, producers, and other practicioners.
The purpose of ISPA is to
Organize and conduct internation conferences related to precision agriculture, such as International Conference on Precision Agriculture, European Conference on Precision Agriculture, and other related conferences.
Develop and maintain a web-portal to communicate the latest developments in Precision Agriculture.
Maintain a member listserv to communicate among society members.
Publish a regular ISPA e-newsletter for members and other subscribers.
Provide members an opportunity for publication of original scientific research in the society sponsored, peer-reviewed journal (International Journal of Precision Agriculture).
We look forward to seeing you in Minneapolis, June 26-29, 2022!