Abstract Deadline Extension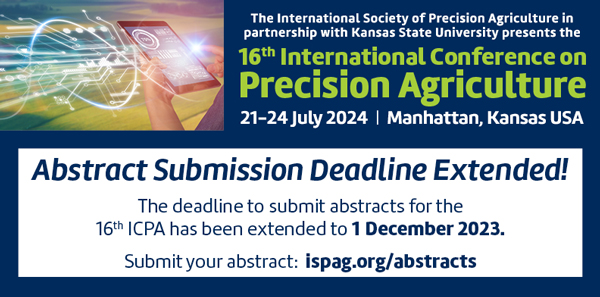 Thank you to everyone who submitted abstracts to the 16th ICPA by the 31 October deadline. We had a terrific surge of submissions the final week. We also had a number of requests to submit an abstract after the deadline. We have allowed for these later submissions and we want to be fair to everyone, so we are extending the deadline to
Friday, 1 December 2023
.
Due to the need to review all abstracts in a timely manner we will need to maintain this as the final deadline for submissions.
Information about the full paper submissions including a template can be found at
Author Instructions
.
If you have any questions about submitting or the conference, please contact
abstracts@ispag.org
or phone +1217-762-7955.
16th ICPA Program Topics
The 16th ICPA is now accepting Abstracts
Abstract Topics:
Application of Granular Materials with Drones
Artificial Intelligence (AI) in Agriculture
Big Data, Data Mining and Deep Learning
Data Analytics for Production Ag
Decision Support Systems
Demonstration
Digital Agriculture Solutions for Soil Health and Water Quality
Drainage Optimization and Variable Rate Irrigation
Drivers and Barriers to Adoption of Precision Ag Technologies or Digital Agriculture
Drone Spraying
Edge Computing and Cloud Solutions
Education of Precision Agriculture Topics and Practices
Extension or Outreach Education of Precision Agriculture
Farm Animals Health and Welfare Monitoring
Genomics and Precision Agriculture
Geospatial Data
In-Season Nitrogen Management
Land Improvement and Conservation Practices
On Farm Experimentation with Site-Specific Technologies
Precision Agriculture and Global Food Security
Precision Agriculture for Sustainability and Environmental Protection
Precision Crop Protection
Precision Dairy and Livestock Management
Precision Horticulture
Profitability and Success Stories in Precision Agriculture
Proximal and Remote Sensing of Soils and Crops (including Phenotyping)
Robotics and Automation with Row and Horticultural Crops
Scouting and Field Data collection with Unmanned Aerial Systems
Site-Specific Nutrient, Lime and Seed Management
Site-Specific Pasture Management
Small Holders and Precision Agriculture
Smart Weather for Precision Agriculture
Social Science Applications within Precision Agriculture
Weather and Models for Precision Agriculture
Wireless Sensor Networks and Farm Connectivity